What happened to Fall? I love the change in seasons, but it seems like we barely had a summer then Fall came and went in just a couple of weeks. No slow progression with the leaves slowly changing colors and meandering to the ground with multiple raking events to clear the yard. In about two weeks everything changed and dropped and scraping windshields all came in one big whirlwind. Alas, the trees are now bare and on to the next season - winter.
Winter. It brings cozy nights in my flannels and slippers. Thinking ahead to writing my Christmas cards and figuring out the annual picture. Reminding my kids over and over to compile a gift list. You'd think that would be an easy task, but after one or two items they seem to draw a blank. Christmas decorations all over the house and lights outside. I am also diligently working on winter NOT bringing extra body insulation - i.e. fat. I'm trying to combat that now so when all the holiday eating begins, I will already have the mindset to just taste and not over indulge. Because I love food. I'll eat to the point where I'm uncomfortable. Because I love food.
I have tried making a few new desserts with pumpkin puree. I thought they turned out yummy. I made pumpkin cookies and used the icing (I dipped them in to get a nice topping). I thought they tasted better the next day after the pumpkin flavoring set in. You can find the cookie recipe
here
, thanks Eat Yourself Skinny.
This is her picture from the blog- much better than I could take
Next I made pumpkin and chocolate chip bars. Pumpkin and chocolate, what's not to love? To make this recipe even better, it's cooked all in a cast iron skillet. Love that! Here's the
one pan pumpkin cookie
, thanks to Created by Carol.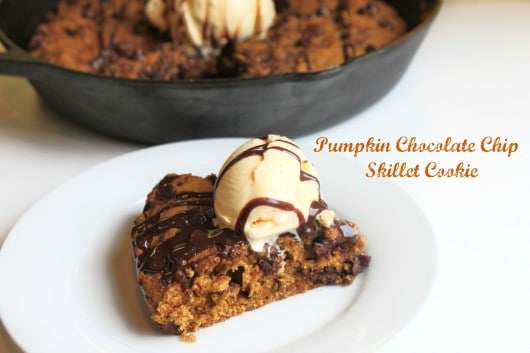 Carol's picture off her site. Don't you just want to make them now?






So now that you have had a chance to see these yummy desserts I know you are going to go out and treat your family to pumpkin goodness. Happy baking.